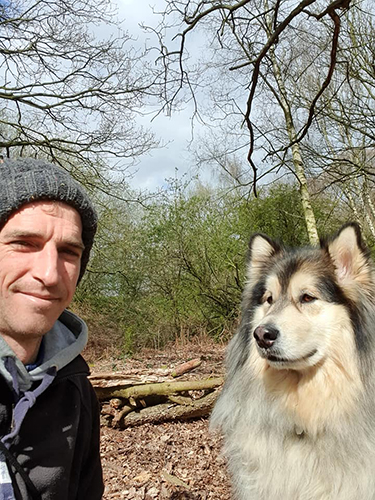 Leila update: Leila is a much-loved family member. She is a sensitive and easy-going girl, with the sweetest personality and temperament. Leila is an uncomplicated, lovable, and very obedient girl.  I am particularly impressed by the close bond between Jon and Leila and Jon has evidently invested his time well to train Leila to an advanced stage.  I believe she would be a wonderful Therapy dog.  She has become the mascot of Jons Workplace....a golf course.....and is loved by everyone.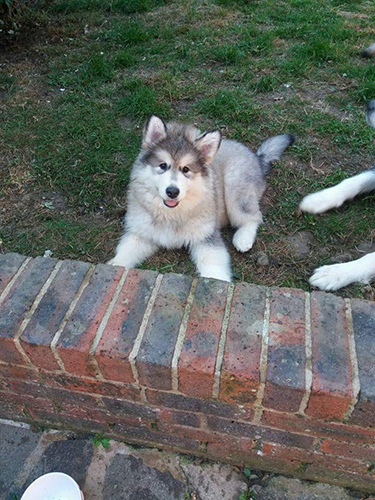 Here is what her owners have to say about her: 

"We were first introduced to this wonderful breed of dogs and Rita's fur family when we looked after our friends' dogs – Biggi and Meeko. We instantly fell in love with how affectionate and kind-natured these dogs were and we loved waking up in the mornings to lots of kisses and cuddles! We were particularly amazed by Biggi, as although he is the biggest and strongest dog I know, he is also the biggest softie. He is a beautiful dog on both the outside and the inside with the loveliest personality. We mentioned to Bekki we would love to have a dog like Biggi from the same breeder and we were delighted to hear Rita had an available puppy. When we first started communicating with Rita, she asked us many questions about our experiences with dogs and our lifestyles to ensure Leila was the right puppy for us and we were the right family for her. We also had many questions, as Jon and I have always owned German Shepherd dogs but never a Malamute and we were impressed with how Rita answered our concerns. One of the worries we had was, after researching Alaskan Malamutes, many sites stated that this particular breed of dog could not be walked off the lead due to their hunting instincts. This was something important to us as often we walk our dogs in farmers' fields, parks, woods and around horses. Rita was very helpful and sent us many lovely pictures of her dogs in many situations such as on beaches and in fields around livestock, without a lead. These pictures were fine examples of what you can achieve with dedication and consistency in training and she wanted to encourage us to set goals and start training as soon as possible. The early Puppy age is the foundation for a well-balanced mindset and a good socialized and well-mannered dog. 
Rita also invited us up to Woburn Woods to meet the puppies, in which we were very impressed with the training and quick recall the puppies already had at just 9 weeks old! Before Leila joined our family we had three visits with her. This really helped to make a smooth transition for Leila and our other dog Shadow. We were all able to familiarise ourselves with each other and when Leila finally spent her first night with us, she was very settled and comfortable in her new home. Leila is everything we hoped for and more. She is a gorgeous girl, who is very affectionate, with a cheeky and inquisitive nature. She is very intelligent, she learns new skills very quickly and she is always keen to please us. Since Leila has arrived, we have been overwhelmed with how exceptional she has been. Within the first two weeks of owning her, she was introduced to all areas and aspects of our lives, including meeting a large extended family with scary babies and children, busy parks, horses, other dogs and working with her dad on a busy golf course. With every challenge, we have been amazed by her laid-back attitude and how she has taken everything in her stride. Anyone that meets Leila has been surprised by how relaxed and calm she is for a young puppy. We have had many comments on her excellent behavior which is a credit to Rita and reflects the dedication and the hard work she has put into her dogs from a young age Throughout the whole process - before, during, and after Leila joined us - Rita has always been on hand to offer help and guidance on any matters, great or small. We have been impressed with the care and devotion Rita takes in ensuring her puppies find the right home and we feel very lucky to have one of her fantastic dogs.
I wish more breeders took this much care securing the future of their puppies as I believe it would prevent ill-placed dogs from ending up in re-homing centers." Jon, Chelsea and Skye.