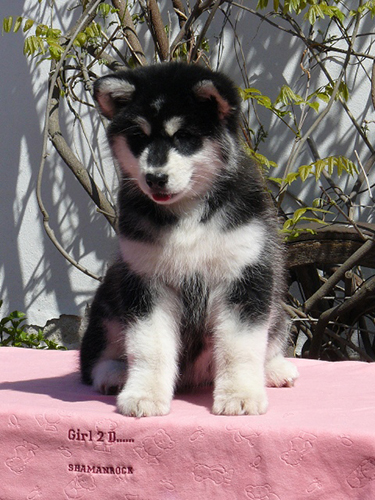 Introducing our stunning seal & white girl "Cheer " we are very excited to welcome Cheer to our pack in December and look forward to the winter with great anticipation!
Cheer was bred by Katka of Shamanrock Alaskan Malamutes. We are very lucky to have Katka as our breeder and for her to allow us to have this stunning girl.
Katka brought her over to the UK for the Manchester show on the 21st January 2012 and showed her at her first show outside of the Czech Republic. She did amazingly well, placing 1st in her classes and Best Puppy Bitch! This follows on from a successful show career from the Czech Republic where she hit the show scene with a bang, winning Best Puppy In Breed at just 3.5 months old!
When Cheer arrived, she had a little language barrier. All of her commands had been taught in Czech, and she had to learn our language. She didn't understand at first, but she is a smart girl and learned by watching Barenga and Buck and following what they did. She has learnt very quickly.
She is a fun loving girl, but she has a cheeky, and naughty side. One afternoon, I had cooked some food and left it in the pot to cool. Whilst this was cooling down, I took myeself off to the graden to do some work and came back in after 10 minutes. It was so quiet, anyone with malamutes will tell you that if it is quiet, it usually means they are sleeping, or up to something!
I walked back in to the kitchen, and found Cheer, sitting in the middle of the room, with the biggest "smileamute" on her face, sitting in front of an empty pot! The look of satisfaction on her face and mission complete. She was so full, she couldn't even walk, but she didn't care.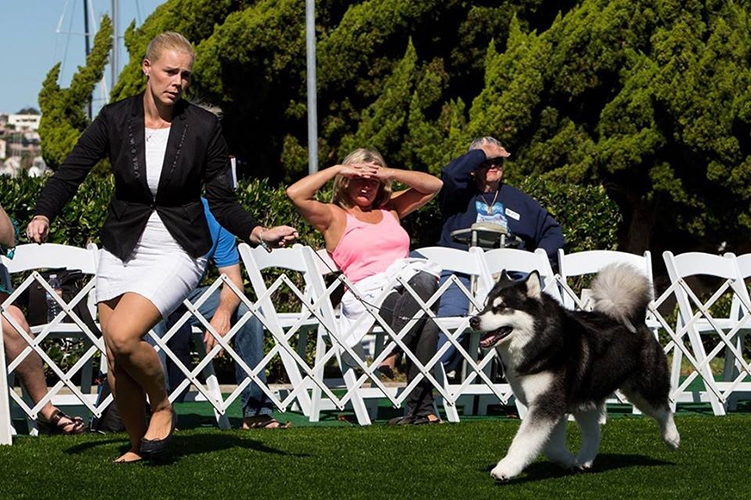 One of Cheer's favourite activities is to inspect our pond and do regular "stress tests". Inspector Cheer loves it and frequently dives in for a swim, and pulls out all the plants.
Apart from her cheeky side, she is a very loving girl, and loves to play with Barenga and Buck. Loves to go bikejoring, and loves meeting new friends. She makes any walk, stress free and is a pleasure to have her as a member of our pack.
Pedigree
CH. Catera's Man Behind the Mask

BISS CH Prairie Snow's Lieutenant Dan ROM

BIS BISS CH Nanuke's Revolutionary ROM

CH Black Ice's Autumn Splender

CH Sno Klassic GGM Catera Keep It Real ROM

BISS CH Nanuke's Lockport Louie ROM

CH Sno Klassic Chenega Kaniksu

Rudged Lark Shamanrock
Güisky de Jungla Negra
Zulem Remember-To-Caho's
Praise del Biagio
Ice Puppy Shamanrock
Moon Song's Captain Moon Ray
Aira Rex Golden Cessy