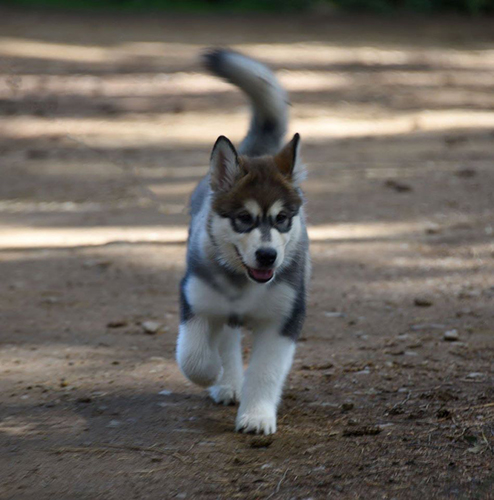 Alaicha's Wow factor… aka Lola. Our powerhouse... Lola is a lovely girl with a super movement, well assembled, always wants to please you.  
Here one example of a judge's critique about her mummy Cheer: 1  Shah's Shamanrock Destiny Child [ATC AM01101 CZE]. 15-month-old, black bitch with lovely dark eyes as one would expect in this colouration, had the best movement of the class. For her age very good, strong skull and muzzle on her, very good neck, forehand, correct slightly sloping topline. Has sufficient length of body, not compact, has low set rear hocks which she used to great advantage to show off her driving power of movement from behind.
From a young age, Lola showed that she inherited mummy Cheer's strong and powerful hind legs. She was the first to look out of the puppy box standing on her hind legs and having the ability to escape out of the puppy box a week or so earlier than her siblings Snoop and Leila.
She loves to fetch the ball and never gets tired of it... At training classes, she is cool, laid back, focused. My trainer says she has only eyes for me. 
This incredibly cheeky, dynamic girl is remarkable bright, curious, extraordinarily creative, keeps her brother and us busy, has another caring, very gentle face.